Dynabrade
About Dynabrade
Product Information
Dynabrade Inc. will exceed the expectations of our customers through the innovative design of the highest quality abrasive power tools and related accessories.

Continuous Quality Control
Every Dynabrade product undergoes rigorous performance tests at precise stages, from design conception through product assembly and packaging, to insure they meet our own high standards and the demands of our customers. Our goal is to maintain or improve Dynabrade quality with product and service performance levels that equal or exceed that of any competitor, and to exceed customers expectations worldwide.

Continued Leadership in Research and Development
Many applications have unique requirements that cannot be met with our general line of air tools. Our research and development teams are continually upgrading our product offering based on market needs and new technology, coupled with the latest innovations and technological advancements in the abrasive industry. We make ongoing investments in plant, equipment and manufacturing processes to improve the quality of our products. Our goals are to solve abrasive user problems, increase productivity and lower total costs. Our constantly growing product line, together with many years of design engineering, research and development experience, proves our ability and commitment to provide continued leadership in the portable abrasive power tool industry.

Repairs
To maximize the long-term value of your Dynabrade products, have them repaired by our factory experts. We have a fully trained staff to meet all your service needs. By relying on Dynabrade for service, you can be confident that your tool will continue to operate at peak levels of performance. For those who have their own in-house repair facilities, ask your local Dynabrade Distributor about our tune-up kits available for selected models or place your order for specific parts as needed directly with your Dynabrade distributor.
Discover the Dynabrade Difference by viewing over 300 pages of industrial power tools, accessories and abrasives. Click to view the Dynabrade Catalog.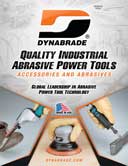 Simply click on the part number within the Dynabrade catalog and come back to our website for ordering information.